Changes in Alcohol Consumption And Risk of Dementia
Posted by SUNNY RODHEY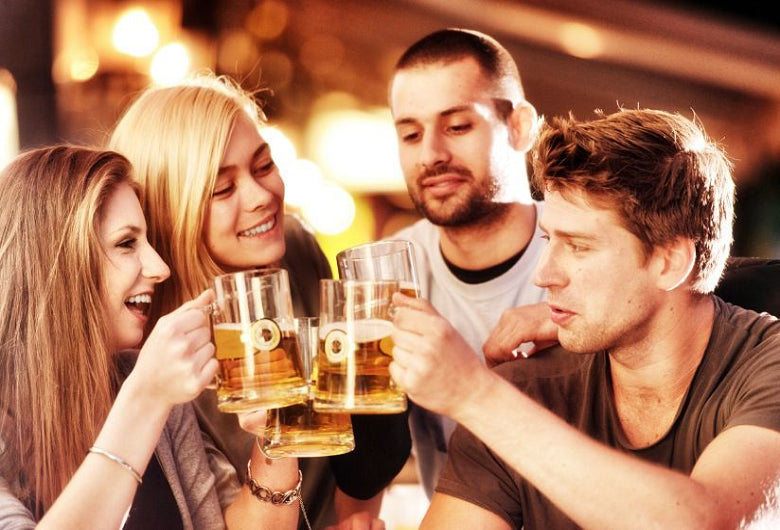 In a recent nationwide cohort study from South Korea, researchers found that sustained mild drinkers had a 21% decreased risk of all-cause dementia and sustained moderate drinkers had a 17% decreased risk of all-cause dementia compared with sustained non-drinkers. However, sustained heavy drinkers had an 8% increased risk.

Compared with those who sustained the same level of drinking, heavy drinkers who reduced intake to a moderate level and non-drinkers who initiated drinking to a mild level exhibited a decreased risk of all-cause dementia and Alzheimer's disease (AD), whereas those who increased alcohol consumption from a mild or a moderate level to a heavy level exhibited an increased risk of all-cause dementia and AD.

The findings from the South Korea study are consistent with a recent systematic review of meta-analyses, where mild to moderate alcohol consumption was found to be protective for all-cause dementia, AD, and Vascular dementia (VaD).

The protective effect of mild to moderate alcohol consumption may be attributed to various mechanisms. In AD, for example, previous studies proposed that the protective effect of mild to moderate alcohol consumption involves the promotion of prosurvival pathways and decrease of neuroinflammation.

Regarding VaD, previous studies proposed that mild to moderate alcohol consumption may be beneficial to the vascular system, with beneficial effects on platelet function and increased serum concentration of high-density lipoprotein.

However, excessive alcohol consumption also has various harmful effects through direct mechanisms, such as the proven neurotoxic effect of alcohol and nutritional deficiency. Additionally, excessive alcohol consumption is thought to exacerbate the pathology of AD through enhanced tau accumulation and the destruction of cholinergic neurons accompanied by decreased acetylcholine release.

This study showed that initiation of mild alcohol consumption was associated with a decreased risk of all-cause dementia and AD, which, has never been reported in previous studies. Although mild to moderate alcohol consumption has been reported to confer beneficial effects on cardiovascular disease, debate persists with respect to numerous other outcomes.

None of the existing health guidelines recommend starting alcohol drinking. Dietary Guidelines do not recommend that individuals begin drinking or drink more for any reason. Furthermore, alcohol consumption is a marker for several lifestyle factors, and a mild to moderate level of drinking is considered an important component of social activities. Several studies suggest that more frequent social contact decreases the risk of dementia.

Also, it is difficult to draw conclusions from fully understanding the socioeconomic reasons underlying the changes in drinking patterns. The results from this study showed that quitting from any level of alcohol consumption was associated with a higher risk of all-cause dementia, AD, and VaD, which is in line with a previous report. Sabia et al found the excess risk of dementia associated with abstinence was partly explained by cardiometabolic disease (stroke, coronary heart disease, atrial fibrillation, heart failure, and diabetes). Uncaptured medical comorbidities or health consequences leading to quitting may exist in this study. In this study, nondrinkers seemed to have other risk factors, including older age and lower income.

Regarding the association of socioeconomic status with alcohol consumption, people in higher socioeconomic status groups seem to drink more often and drink smaller amounts more frequently, whereas lower socioeconomic status groups have a higher proportion of abstainers, but otherwise drink more often in problematic ways.
 
Sustained heavy alcohol drinking is detrimental to dementia, which may be conceptually in line with a recent indication that excessive alcohol intake has been recognized as a new modifiable risk factor for dementia in the 2020 dementia prevention guidelines published by the Lancet Commission.
 
Limitations
It is important to note that this study has several limitations. First, alcohol consumption was self-reported, which tends to underestimate the actual level of alcohol consumption.
Second, the type of alcoholic beverage was not considered.
Third, the participants were limited to health screening, who might be healthier and more engaged in a healthy lifestyle than the general population.
Fourth, unmeasured confounders, including genetic ones (eg, APOE) could distort the results.
Fifth, caution is required when applying these results to ethnic groups other than Korean individuals, because the genetic background for alcohol metabolism and drinking culture vary depending on ethnicity.

In my opinion, its all about balance, we should enjoy everything in moderation!
Collection 2019
Sale 70% Off
Title for image